It's the start of November and Halloween is over for another year. Ghosts have returned to their sleepy rest and skeletons are hopefully still in their closets. Can we put the tree up now?

Ok I'm only joking. I suppose it will be time enough till December. Recently, the head honchos from Meab Enamels took a short working holiday (cough cough) to Italy to see the wonder of Florence and to drink some Chianti. Our Silk Scarf Collection has been a massive success since its inception over eighteen months ago and a wonderful  addition to our Jewellery Collection. So it was time to meet some silk suppliers and organise the launch of our latest product. Watch this space.
We are very lucky that the business we are in brings us to some wonderful and beautiful places not only in Ireland but also abroad. This time we flew to Rome for one night and it was great to be back in the eternal city. We didn't linger too long in the capital as our main destination this time was Florence. I had been keen to visit Florence for a long time now and having read Ross King's "Brunelleschi's Dome" a few years ago I was intent on seeing the Duomo of Florence.
The Cattedrale di Santa Maria del Fiore  or the Duomo as it is more commonly known is the main church of Florence. It was begun in 1296 in the Gothic style with the design of Arnolfo di Cambio and completed structurally in 1436 with the dome engineered by Filippo Brunelleschi. The Medici family were patrons of Brunelleschi and with their astonishing wealth began the greatest movement in history to be eventually known as the Renaissance. Amazingly the Duomo and Cathedral took one hundred and forty years to complete and it is still the largest brick dome ever completed!
We met up with the lovely Valentina of viator tours who took us for a private guided tour of the Duomo. Believe me, this is not for the faint hearted and probably less so if you've over indulged the night before on Tuscany's most salubrious offerings. There are 463 steps to be climbed before emerging through a small trap door and onto the top of the dome which is 114.5 meters high. The views over the city of Florence and the surrounding Tuscan hills are spectacular.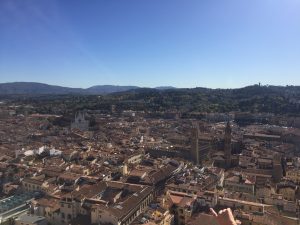 Did I mention Chianti yet? Well if you are visiting Tuscany and you are partial to a glass of red then you are in the right place. We are not in the business of wine but we are always ready to meet opportunity. We did some wine tasting on our own and it was going very well but we figured we could do with some expert tutelage and that's when we came across Laura McDonald. An American lady by birth, she is very much an Italian now. Laura or Laauura as she is known in Italy (really pucker your lips when you say her name) took us to a Tuscan villa on one of her small wine tours and entertained and educated us for the evening.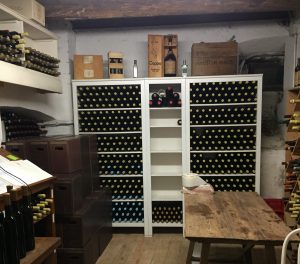 Chianti is any wine produced in the Chianti region, in central Tuscany. There are strict rules governing the production of Chianti wine imposed by the wine makers themselves to ensure a high standard is always achieved. In 1932 the Chianti area was completely re-drawn and thus widened. The original Chianti heartland was labelled "Chianti Classico". Only Chianti from this sub-zone may boast the black rooster seal (known in Italian as a gallo nero) on the neck of the bottle, which indicates that the producer of the wine is a member of the Chianti Classico Consortium, the local association of producers.
We learned all this and more while downing copious amounts of the stuff over an Italian feast and to be honest I've forgotten a lot of it already. There's a small case on route to us as I type and I'm confident that my memory will be well and truly rejogged when it arrives.
The weather was wonderful but the trip was short and swift. Nonetheless we will be returning and it was great to get back home to the doggies. The Autumn weather is wonderful here in Ireland also at the moment and long may it last. The month of November is a good month to start thinking of Christmas presents as there is nothing worse than leaving it to the last minute and realising that the post wont get you what you want in time! We will be putting up a list on our website and also on our Facebook page of cut off dates for posting worldwide so keep an eye out for that.
That's all for now folks and until the next time, get out and enjoy the Autumn colours before the long Winter nights take over.