Autumn is upon us and we took a stroll or rather a hike through part of Irelands lesser known North West. We headed in the direction of Cavan town and Derrylin. We then swung left past Florencecourt and ended up in the beautiful Cuilcagh mountains. These wonderful mountains known as Binn Chuilceach in Irish, meaning "chalky peak" straddle the border between Co Fermanagh in Northern Ireland and Co Cavan in the Republic.

The countryside around us is always a source of inspiration when it comes to designing and making our jewellery at Meab Enamels and the Autumn colours that are appearing around us at the moment are nothing short of stunning. As we made our way across the raised blanket bog that is part of the Cuilcagh Legnabrocky trail we were met by Dark browns, burnt oranges, deep greens and of course the steely blues and greys of the cliff faces that rise up to meet the sky on Irelands very own path of the gods.
This area of Ireland was once part of the medieval Kingdom of Breifne. An area ruled and inhabited by the O'Rourkes, O'Reillys and the Maguires. It separated Connacht from the Northern Uí Néill territory which is modern day Donegal, Tyrone and Derry. On the Southern slope of The Cuilcagh mountain a river flows underground and emerges some miles away in the Shannon Pot, the traditional source of the River Shannon.
Cuilcagh Mountain has one of the largest expanses of blanket bog in Northern Ireland, on a relatively high elevation upland landscape. It is bounded by limestone grassland to the north and montane habitats to the south. The blanket bog exhibits a wide range of characteristic vegetation and structural features, with well-developed pool, hummock and lawn features, acid flushes and bog bursts. The bog vegetation is characterised by luxuriant Sphagnum mosses. The Cuilcagh area supports a rich assemblage of upland insects, and is one of the most important sites in Ireland for these species.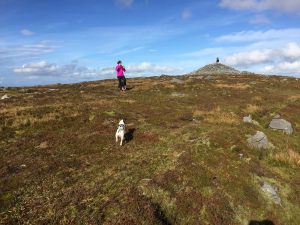 As the Autumn creeps closer to Winter we will be busy preparing for the Christmas craft fairs. The largest of which is once again in the RDS in Dublin from the 5th to the 10th of December. Hopefully we will see you there and maybe some of our Autumn inspired Earrings or Brooches will find their way to you too!