Meab, Clair and Charlie craft each piece by hand. Each enamel piece takes over 20 processes to create. A pure metal is required for enamelling and we use recycled copper from old water cylinders. It takes several processes for the copper to be prepared before enamelling. The 'Open Fire' technique is then used. This means that each piece is fired in the open air and the design is created whilst the enamel is molten. This enables us to create the unique swirling designs which our jewellery is famous for. Each designed piece is unique to its owner.
After firing, each piece has to be painstakingly cleaned on a grinder. We make sure that each copper back is sparkling and that all the pieces are smooth to touch. This cleaning process is one of a number of finishing processes to make sure that each piece is crafted to the highest standard. Only the finest findings and packaging is used for each Meab enamel piece.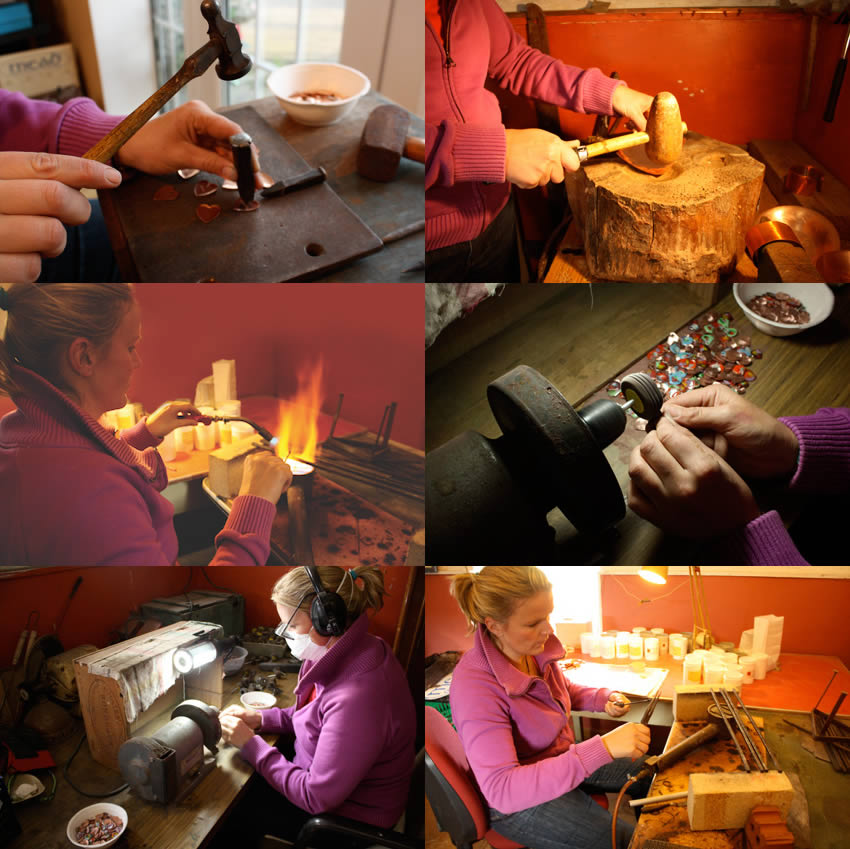 Meab and Clair have also combined their vibrant enamel design with Silver, Silver plate and other metals. This jewellery collection combines eye catching colour in contemporary settings to create adaptable, affordable and unique pieces. We also use our enamelling skills to create larger enamel art pieces. These pieces include bowls and wall art. The three dimensional effect of the crafted copper brings the enamel colour to life. These art pieces, like our jewellery collection create a truly unique and visually colourful experience which has the power to enhance one's mood and ignite the imagination.
Commissions are always welcome. Just drop us an email and we can discuss all the possibilities!